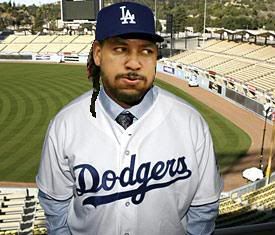 I don't know a single Yankee fan who is not ecstatic to hear that Manny Ramirez is no longer with the Red Sox. The dude just absolutely, positively, killed the Yankees. One of the best right-handed hitters in the history of the game and his teams consistently make it to the playoffs. The Fucking Massholes don't win the thing the Yankess have won 26 times in about 100 years, Manny comes around, they win it twice and then all they want to do is bitch and moan about Manny Being Manny, whatever that means. Honestly, who gives a fuck how he acts? Yeah, the outright dogging it on occassion is defintiely not cool, but you know what? The guy fucking Produces. And he Produces BigTime. You're gonna replace him with Jason Bay? Seriously? Laughable.
More importantly, the lack of Masshole appreciation for Manny is almost criminal. He brings you two rings and somehow he is The Bad Guy?
As always, Boston just flat out sucks...not to mention being officially out of playoff contention.